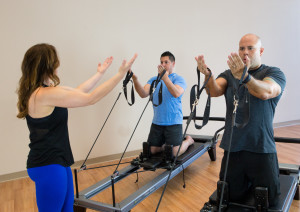 It's almost time for your first group pilates class…now what?  What should you expect?  How should you prepare?  What should you wear?  When should you arrive?
I know trying a new fitness class can be overwhelming and sometimes intimidating.  The first thing I can tell you is to remain calm and be open to this new and fun experience!  It is my goal to give you a well-rounded workout that helps you become stronger, longer, leaner, and happier!
Before you arrive you should think about any questions or concerns that you may have to discuss with me as your pilates instructor.  It is important to be honest with me about your fitness level, any injuries illnesses or other issues that may be important (e.g., are you pregnant? have you recently been sick or injured? any miscarriages? what other exercises to you regularly do?).
Ack!  What to wear???  Make sure that you wear comfortable, but close-fitting clothing.  Although you may be most comfortable in large baggie sweats; those may get hung up on the machine and could potentially be a hazard.  Additionally, refrain from wearing a lot of jewelry that could injury you or get damaged while you are moving about.  I recommend that you refrain from strong perfume or scents – the studio space is often close quarters and your perfume may be offensive to other clients especially when we focus on deep breathing and are often concentrating on challenging movements, so we don't want to be distracted by strong scents.
You should try to arrive at least 10 minutes before your class is scheduled to begin.  It is important for you to be there before class begins in order for me to orient you to the studio and the pilates equipment or props.  Upon your arrival you should identify yourself to me as a new client.  At this time it is important for you to describe any injuries, illnesses, or other movement limitations that you may be working with.  Once you arrive it is important for you t let go of your stressful day – this is your time to focus on your health and wellness – enjoy it!
I love to teach group classes on request – so think about what body parts you like to focus on in your workout and I will do my best to incorporate that into the class.  I will do my best to make you feel comfortable in the studio and make sure you get the most out of your first pilates class!  If you have questions about what class is most appropriate for you please contact me and I will help you decide which class to try first.  I look forward to seeing you at the studio