Here's what Carey's clients say about her Pilates instruction: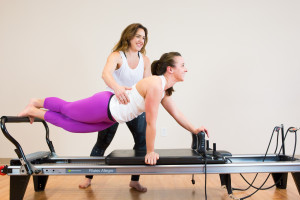 "Carey's attention to form helps you not only be safe, but forces you to stay honest with yourself and complete each rep correctly to learn the movement, master it, and get the most from the exercise instead of rushing to finish the set.  Carey helps you to slow down, connect, and identify what muscles should be driving the movement and how proper form helps to reinforce this."
"What I love about Carey is that she is honest to the methodology of Pilates and respects the history/background and the culture.  Surprisingly enough, this is difficult to find and just one reason why I respect her so much as an instructor. She is dedicated and invested in continuing education, more than most instructors I've met.   Carey cares about being true to Pilates and can take other apparatus and incorporate Pilates exercises and principles instead of just throwing in stuff that isn't Pilates to call it a workout.  I love Pilates and it really matters to have an instructor who does too.  I could do any kind of strength training I wanted anywhere, and I come to Carey because I receive an authentic workout around Pilates principles."
"Carey truly cares about clients.  She is attentive, caring, and fun to be around!  I've been exercising consistently and vigorously since I was a teenager, trying out everything from yoga to power lifting.  Without a doubt I have seen an increase in my muscle mass and strength after taking Carey's classes regularly.  Whether it's individually or in a group setting, Carey will ensure that you receive a safe, thoughtful, and challenging Pilates-based workout and help you see progression and results."
-Alyssa, Alexandria, VA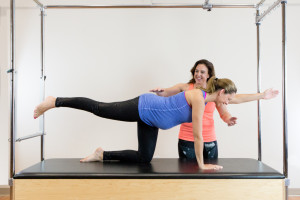 "As a woman in my mid-30s, I have tried so many different types of workouts and activities throughout my life. Pilates is the only thing that I have ever loved doing so much that I have kept it up consistently for several years. I owe so much of that to Carey. Because of her skill and dedication as an instructor, I find myself looking forward to the next class rather than dreading a workout. This was especially true when I was pregnant with my first child. Whereas other instructors would act surprised or nervous when I would walk into the studio with a growing belly, Carey made me feel like there was no reason I could not continue to do what I loved throughout the pregnancy. Early on, she talked to me about the changes that I would start to experience with my pilates practice. She discussed the things that I should watch out for as my body changed and showed me several adaptations that I could start to incorporate as certain positions or movements became less comfortable. Her approach gave me control over my workout and allowed me to do what felt right to me rather than being constantly questioned throughout class. I was able to continue to attend my normal classes and seamlessly keep up my practice through 38 weeks of pregnancy. I never felt uncomfortable or lost; rather, I left each class feeling energized and confident, which I consider a true testament to Carey's abilities as an instructor. While she was able to make me feel strong and independent, I know that she was also watching me like a hawk to ensure that I maintained proper and safe form. Carey has a deep knowledge of pilates and an insatiable appetite to learn and grow as an instructor. All of her hard work outside the studio translates into a smooth and assured teaching style, as well as an impressive ability to keep things challenging while focusing on your individual needs."
-Carrie, Arlington, VA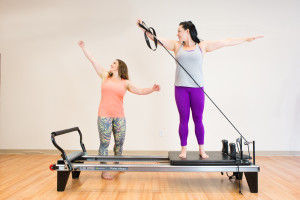 Carey's passion for Pilates keeps me on my toes! I started practicing to improve my posture and movement confidence and keep coming back for balance and strength work. Need adaptive props, cues and prompts? Carey is your coach.
-Nancy, Falls Church, VA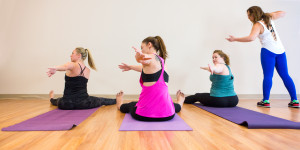 In a group class – even one that is formed around "levels" – the ability for an instructor to know her clients and guide them on modifications –whether due to age; nursing a swollen ankle or a strained muscle – is what makes a difference between the "ordinary" and the "significant."

In addition, an instructor also serves as inspiration for clients to have the will and the confidence to strive to a higher level of fitness.  Carey does not assume everyone has the same level of "fitness" and yet she instructs all of us in a common timeframe!
That requires immense skill; professionalism and above all "caring."
-Christine, Alexandria, VA